Wildlife Crossings
You can listen to the January 19 episode of Éco dans les Prairies in replay. Below are the links if you would like to learn more about the subjects we discussed.
Worldwide, there are over 32 million kilometers of roads. In the United States, 97% of the land is less than 7 km from a road. We've divided the earth into small patches of land resembling a patchwork. That makes life very difficult for animals.
We've begun creating wildlife overpasses and underpasses to help animals cross roads. They were simple structures at first but have become more complicated as researchers studied animals' needs and wildlife crossings are now much more elaborate.
Saskatoon's Northeast Swale is a very important wildlife habitat and one of the last remnants of natural prairie. The Swale is surrounded by houses and divided by several roads, with more in the planning stages. The city and the province should protect this natural area and, if roads are absolutely necessary, they should provide wildlife overpasses and underpasses.
Écoponts et passages fauniques
Vous pouvez écouter la chronique du 19 janvier en rattrapage. Voici ci-dessous les liens si vous voulez apprendre davantage sur les activités dont on a parlé.
Il y a plus de 32 millions de kilomètres de routes dans le monde entier. Aux États Unis, 97% du terrain est à moins de 7 kilomètres d'une route. On a divisé la terre en de touts petits morceaux qui ressemble à un patchwork. Ça rend la vie très difficile pour les animaux.
On a commencé à construire des écoponts et des écoducs pour aider les animaux à traverser des routes. Au début, les structures étaient très simples. Mais les chercheurs ont étudié les besoins des animaux et aujourd'hui les écoponts et écoducs sont beaucoup plus complexe.
Le Northeast Swale à Saskatoon est un terrain très important pour la nature, représentant l'un des derniers morceaux de prairies sauvages. Le Swale est entouré de maisons et coupé par plusieurs routes avec encore plus envisagées. La ville et la province devraient protéger cette espace naturelle et, s'il faut absolument qu'il y ait des routes, on devrait fournir des écoponts et écoducs.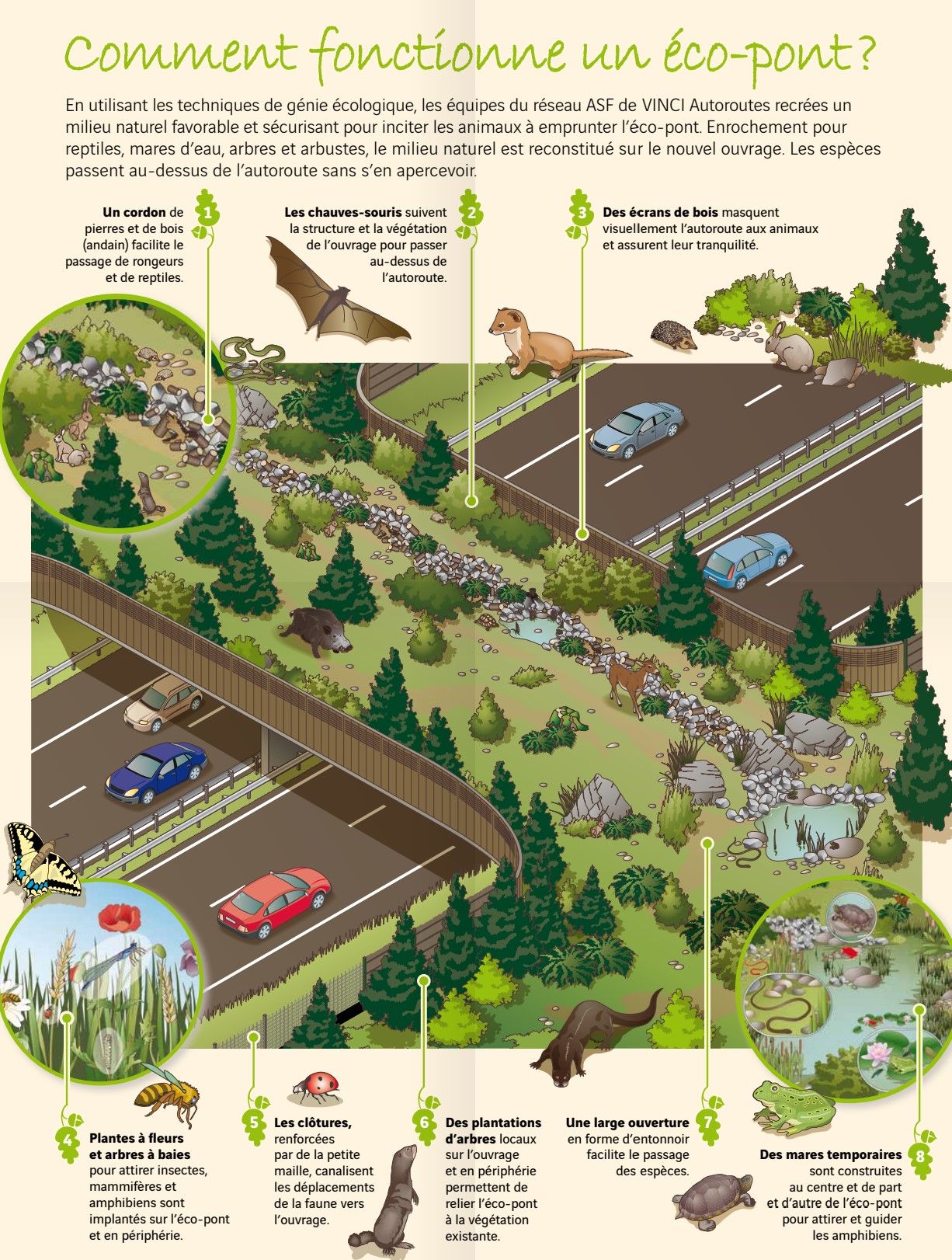 Additional Resources
Book Review : A Clouded Leopard in the Middle of the Road : Thinking About Roads, People, and Wildlife by Darryl Jones [EcoFriendly West]
Wildlife Protection on Urban Roads and Highways [EcoFriendly Sask]
The Northeast Swale: Saskatoon's Conservation Opportunity of a Lifetime [EcoFriendly Sask]
Écoponts et écoducs: des « voies dédiées » pour les animaux ! [Vinci Autoroutes]
Penny McKinlay, EcoFriendly West, presents Éco dans les Prairies, a bi-weekly column for Pour faire un monde, Radio-Canada Saskatchewan, on nature and climate action. Although designed for a Saskatchewan audience, much of the information is of general interest.
Penny McKinlay, EcoFriendly West, présente Éco dans les Prairies, une chronique toutes les deux semaines sur Pour faire un monde, Radio-Canada Saskatchewan, qui parle de la nature et de l'action climatique. Prévu pour la Saskatchewan, il couvre quand même des sujets d'intérêt général.
Photo credit: https://www.flickr.com/photos/apmckinlay/36343927391
EcoFriendly West informs and encourages initiatives that support Western Canada's natural environment through its online publication and the Nature Companion website/app. Like us on Facebook, follow us on Twitter, or subscribe by email.