In the Beginning
30 years ago, Jeff Golfman, a young Winnipeg entrepreneur, started up a recycling business. He was having trouble getting the word out as it was 1991 and very few people knew what a blue bin was. Jeff thought back to his school days and realized that if they educated young people, kids would take the message home to their parents. Jeff and 3 friends, none of whom were actors, took a 25-minute sketch about recycling on a 3-week tour of Winnipeg schools.
Planet Recycling, Jeff's start-up, was eventually sold to the City of Winnipeg and became their blue box program. The "live commercial" for a business evolved into a professional, non-profit children's theatre company – Green Kids Inc.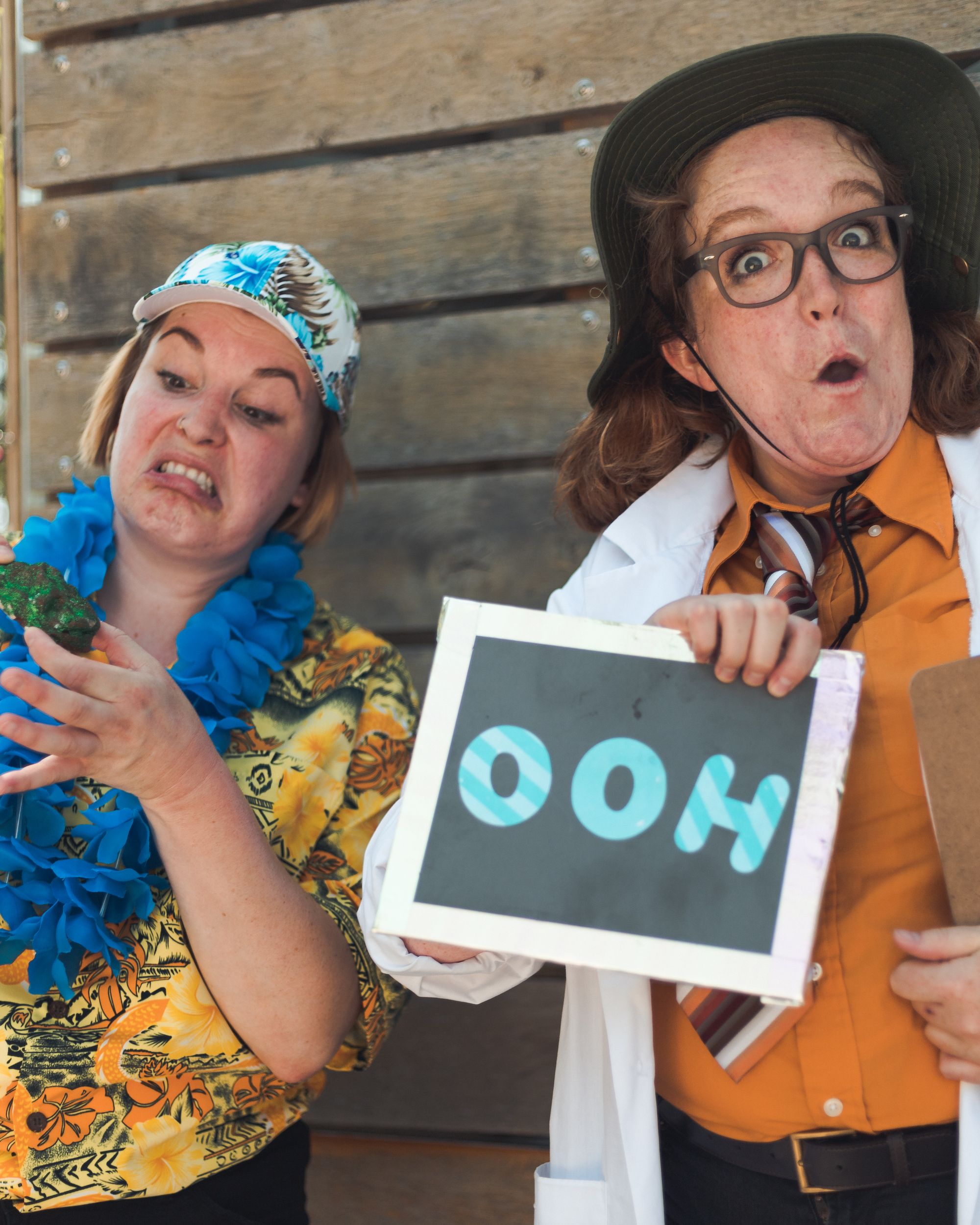 Evolution
Green Kids Inc. has no office and no core funding, but it does have an enthusiastic, supportive group of theatre professionals. Daina Leitold, the non-profit's Executive Director, has been involved in Green Kids Inc. for over 20 years. She is also a Winnipeg theatre creator and producer and an award-winning actor and designer. One woman watched one of the organization's performances when she was a kid and it opened her eyes – it was possible to be involved in the theatre and the environment and live in Winnipeg. That performance shaped her career and she's now on the board for Green Kids.
"We've had our ups and downs over 30 years, but we've always been able to drum up enough money to make one more thing happen," Daina explains. "We've seen 1.4 million kids and their families over the years."
Green Kids' goal of inspiring the next generation of environmental leaders through theatre is monumental as it combines theatre, education, and the environment. "We started out as an environmental organization," Daina says. "We were heavy on facts and calls to action. Then we emphasized the theatre arts. Productions were abstract, light on facts, and more artistic, using metaphors for the planet and the water cycle." The organization is now coming into its own, successfully combining all 3 aspects of their mission. "We're hiring professionals and are on a par with other theatre companies but focus on the environment," she says. "In the past, we were unable to obtain arts funding as the funders had an 'art for art's sake' philosophy and we were told Green Kids was too focused on education to be eligible." Fortunately, that has changed and arts organizations are deliberately asking artists to prove the sustainability of their projects, with bonus points for projects that address environmental issues.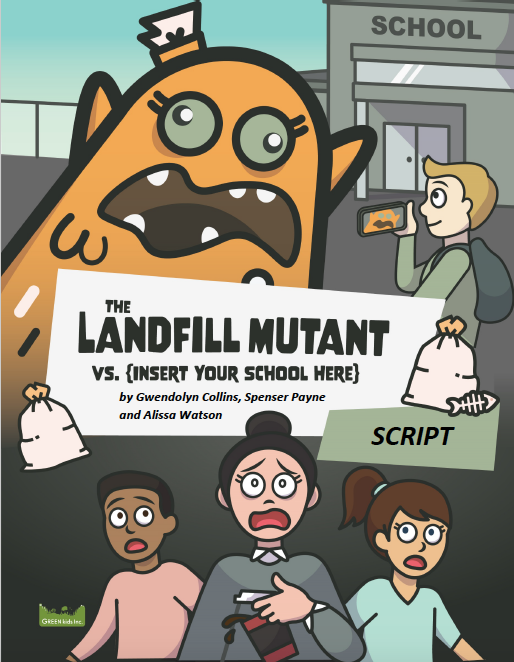 Green Kids Inc. started out in Winnipeg with some performances in rural Manitoba. From 2009-2018, they expanded their tours to include all the western provinces and were up to 3 months in length. However, members became increasingly concerned about their carbon footprint, and they switched from buses to small cars and only 1-2 actors. Unable to perform during the Covid pandemic, they used the time to address how they could work with schools but not travel as much. They've developed a play and resource package that schools can use for themselves. "It's a big ask, but we'll be available to mentor the teachers," Daina says. "A grade 5-8 class will put on the play for the rest of the school. It will be an opportunity for students to not just watch a play but to really immerse themselves in the material." The resource material  for The Landfill Mutant vs. < Insert Your School Here > includes a study guide for teachers (prep. and follow-up activities and exercises), a director's guide for teachers (because they are the show's directors), a designer's guide for students (because they get to design the set, props, and costumes) and a research manual for students (containing all the scientific details of the concepts in the script).  The play is the first Green Kids' program to be offered in both English and French. Based on the educational curriculum, it provides teachers with ready-made material on a topic they are eager to cover.
"Wouldn't it be wonderful if we had Green Kids' chapters in every city in Canada?" Daina says. "We'd hand out the scripts and work with them for accuracy."
Why Theatre?
Theatre arts are well suited to kinesthetic learners who absorb information more readily while moving their bodies. One activity Green Kids uses in schools traces the carbon footprint of a straw. With students acting as points on a map, they trace where the straw came from and how it was produced and used. "Students are fully involved and it creates memorable moments," Daina explains. It develops empathy as well – students feel sorry for the straw and its long journey around the globe. "Kids don't necessarily remember the details, but they do remember how they felt."
Daina sees parallels between theatre arts and environmental activism as both involve putting yourself out there. "At this point, we need to take action and be bold if we want to save the planet."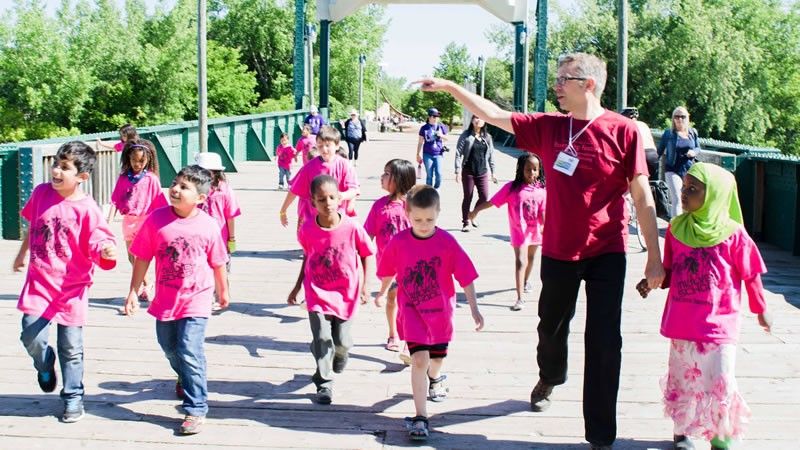 Partnerships
"Partnerships are really neat," Daina says, "as we collaborate with other people doing great work." It's also a valuable opportunity to demonstrate the value of theatre in sharing environmental information.
The Forks, which includes restaurants, stores, a public market, and historical sites, has set a goal to reach zero garbage, zero water waste, and zero carbon emissions. They put up signs with information about the various environmental initiatives – a geothermal heat pump, composting, biofuel, recycling, and rainwater collection – but they didn't generate a great deal of public interest. They have now partnered with Green Kids Inc, who offer interactive tours for school groups and the general public. "Two tour guides, one serious and square and another who is more exuberant, play off each other to add humour to the tour," Daina explains. "There's a short sketch at each stop on the tour. You can't see the geothermal heat pump, so we use theatre to explain it. We get the audience involved in theatre games: 3 generations of a family collaborating to create a banana peel and pretend they're in the compost, for example." The Target Zero Eco Tours were a hit from 2015-2019. They are currently on hold due to Covid.
Green Kids began a partnership with the Assiniboine Park Zoo in 2019, which is currently on hiatus. It involves guerilla theatre with actors popping up in 5 different locations to focus attention on the Zoo's conservation, research, and animal care activities. The long-term goal is to train the Zoo's volunteers to perform the skits.
Bikes and Circuses is a new partnership with Bike Week Winnipeg to be held for the first time in June 2022 with plans to make it an annual event. Winnipeg families will be invited to walk or roll along a stretch of parkland, stopping to take in short performances about climate change along the way.
For more information about Green Kids Inc., check out their website, follow them on Twitter, or like them on Facebook.
Photo credit: Green Kids Inc.