EcoFriendly West was pleased to partner with Notice Nature in the development of self-directed nature activities and guidebooks for kids.
Notice Nature is a Saskatchewan community program created to encourage outdoor play through fun, nature-loving learning activities with an opportunity to win prizes. Everyone of all ages is welcome to participate, and intergenerational participation is encouraged. Notice Nature passports listing over 300 self-directed activities are available at participating libraries in central and northern Saskatchewan. A variety of activities are available for teachers to use with their students.

Six guidebooks were developed collaboratively by Notice Nature and EcoFriendly West. The information in the guidebooks was extracted from/based on Nature Companion, EcoFriendly West's entry-level nature website and app for Canada's four western provinces. The free website and app introduce over 300 trees, plants, insects, reptiles, animals, and birds found in Manitoba, Saskatchewan, Alberta, and British Columbia.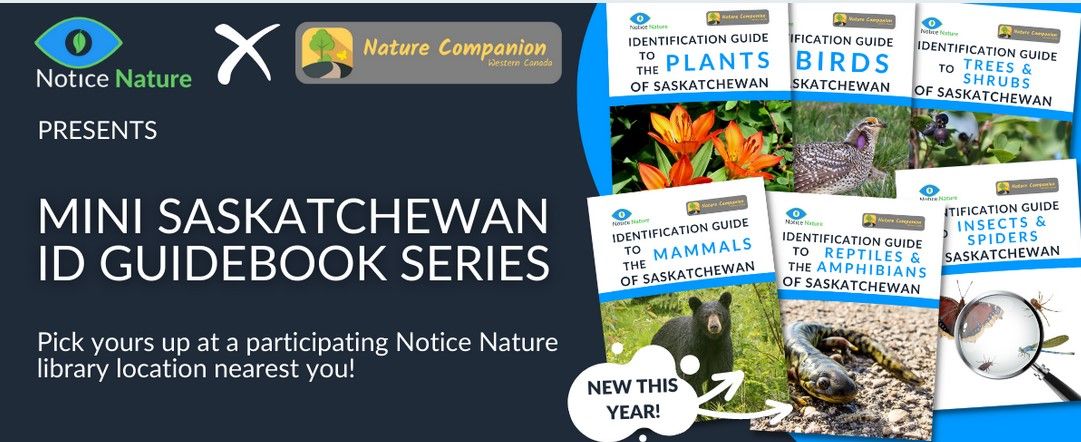 EcoFriendly West would be pleased to work with nature/youth organizations in Manitoba, Alberta, or British Columbia on a similar project.
Further Information
Play & Learn with Nature Companion
EcoFriendly West informs and encourages initiatives that support Western Canada's natural environment through its online publication and the Nature Companion website/app. Like us on Facebook, follow us on Twitter or Mastodon, or subscribe by email.