Welcome to EcoWest News, a weekly round-up of news and resources that you can put to use in addressing environmental issues and protecting the wild in your community.
Across the West
Manitoba Eco-Network and Our Line in the Sand will be participating in the upcoming Manitoba Clean Environment Hearings as they are critically concerned about a sand extraction project near Vivian, MB. They believe the project will cause irreversible damage to the groundwater aquifers in that region in the long term. [Save Our Water]
The City of Burnaby plans to build a green recycling and organic waste facility on parkland. Residents are concerned about the impact on wildlife and the loss of natural urban spaces. [CBC]
Across Canada
Prince Edward Island is offering to buy land at fair market prices near buffer zones, watercourses, or wetlands to support conservation, reforestation, or tree planting activities that will protect the waterways. [Canadian Forest Industries]
Wind and solar can work together to enhance the reliability of electricity systems in Canada. [440 Megatonnes]
Municipal Protected Areas Project
The Association of Canadian Land Trusts has partnered with Nature Canada on an initiative aimed at increasing the conservation of public and private land within municipalities. The Municipal Protected Areas Project will support local conservation by engaging local leaders, sharing best practices, highlighting tools and technical support. If you are interested in participating in this project, contact Paul McNair (paul@ltabc.ca) if your land trust is in British Columbia or the prairies. [Association of Canadian Land Trusts]
Reports
Spending What It Takes: Transformational climate investments for long-term prosperity in Canada proposes a comprehensive $287 billion plan for public investment in a green economy. [Canadian Centre for Policy Alternatives]
Around the World
One of the world's biggest wind turbine manufacturers says it has found a way to break the plastic in turbine blades down into virgin-grade material that could be recycled to make new blades. Let's hope they're right. [The Verge]
Goodyear has developed new tires with up to 90 per cent sustainable materials (e.g. rice husks, recycled plastic, and soybean oil) and benefits especially relevant for electric vehicles. [Electric Autonomy]
A college in Wales is offering a 3-year degree course designed to prepare students for a career in times of climate breakdown and build a generation with the innovative skills and ideas required to tackle the crisis. [The Guardian]
"Shopping secondhand provides solutions to several important issues: style, cost and sustainability." The UK's move to preloved clothes has been influenced by Gen Z, influencers, and celebrity stylists. [The Guardian]
On the Bookshelf
The animals that live closest to us – mice, pigeons, sparrows – are often the most hated. An interview with Bethany Brookshire, author of Pests. [Audubon]
Nature's Wonders
The pronghorn grows and sheds horns annually, "an ideal compromise that minimizes the cost of transport, avoids mineralization and protein cost, and allows for seasonal repair". [Cool Green Science]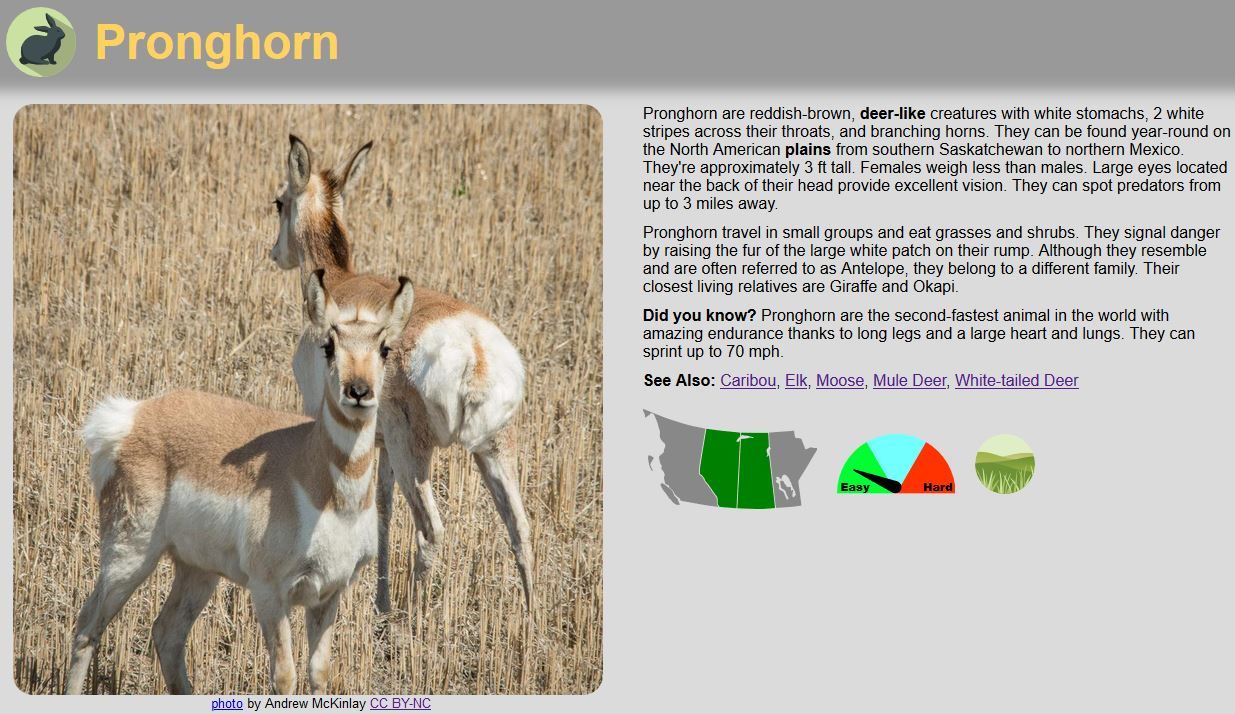 Photo credit: https://www.flickr.com/photos/apmckinlay/23327865355
EcoFriendly West informs and encourages initiatives that support Western Canada's natural environment through its online publication and the Nature Companion website/app. Like us on Facebook, follow us on Twitter, or subscribe by email.