"We want to build a place where people can feel comfortable expressing their views on the climate crisis publicly," says Daniel Smithies, communications manager for the Calgary Climate Hub. That's not an easy task in the oil capital of Canada.
The Calgary Climate Hub was founded in 2017 as a local hub of Climate Reality Project Canada. The hubs work independently, and the Calgary group has evolved with a strong focus on educating and empowering Calgarians to advance grassroots climate action. The organization has developed a two-pronged approach, focusing on community building and municipal engagement while recognizing that the two go hand in hand.
Municipal Engagement
The Calgary Climate Hub speaks out through personal engagement, letter-writing campaigns, and rallies on any municipal issues that will affect the city's greenhouse gas emissions. These have included the municipal climate strategy, housing, and active transportation. They recently hosted a large rally when the World Petroleum Congress met in Calgary. "It was a big success with lots of creative and colourful signs," Daniel says. "There was a very large group of people, our biggest yet. People have accepted they have to live with pushback and criticism given where they live."
The Calgary Climate Hub, with funding from Alberta EcoTrust, has initiated a project entitled Forests for Calgary. Their goal is to establish 5 small urban forests over 2 years using the Miyawaki method. "Our goal is to increase the urban canopy, particularly in areas where there are far fewer trees than elsewhere in the city," Daniel says. "We hope to plant several forests in the city's northeast to achieve greater equity."
The Hub is gathering resources and volunteers to work on 5 different campaigns over the coming year. These include: passage of clean electricity regulations, municipal funding and construction for the first 100 km of a 5A primary cycling network, municipal implementation of the Housing and Affordability Task Force's recommendations, a slowdown or ideally a moratorium on logging in Kananaskis Country, and the adoption of municipal indoor temperature limits in rental properties.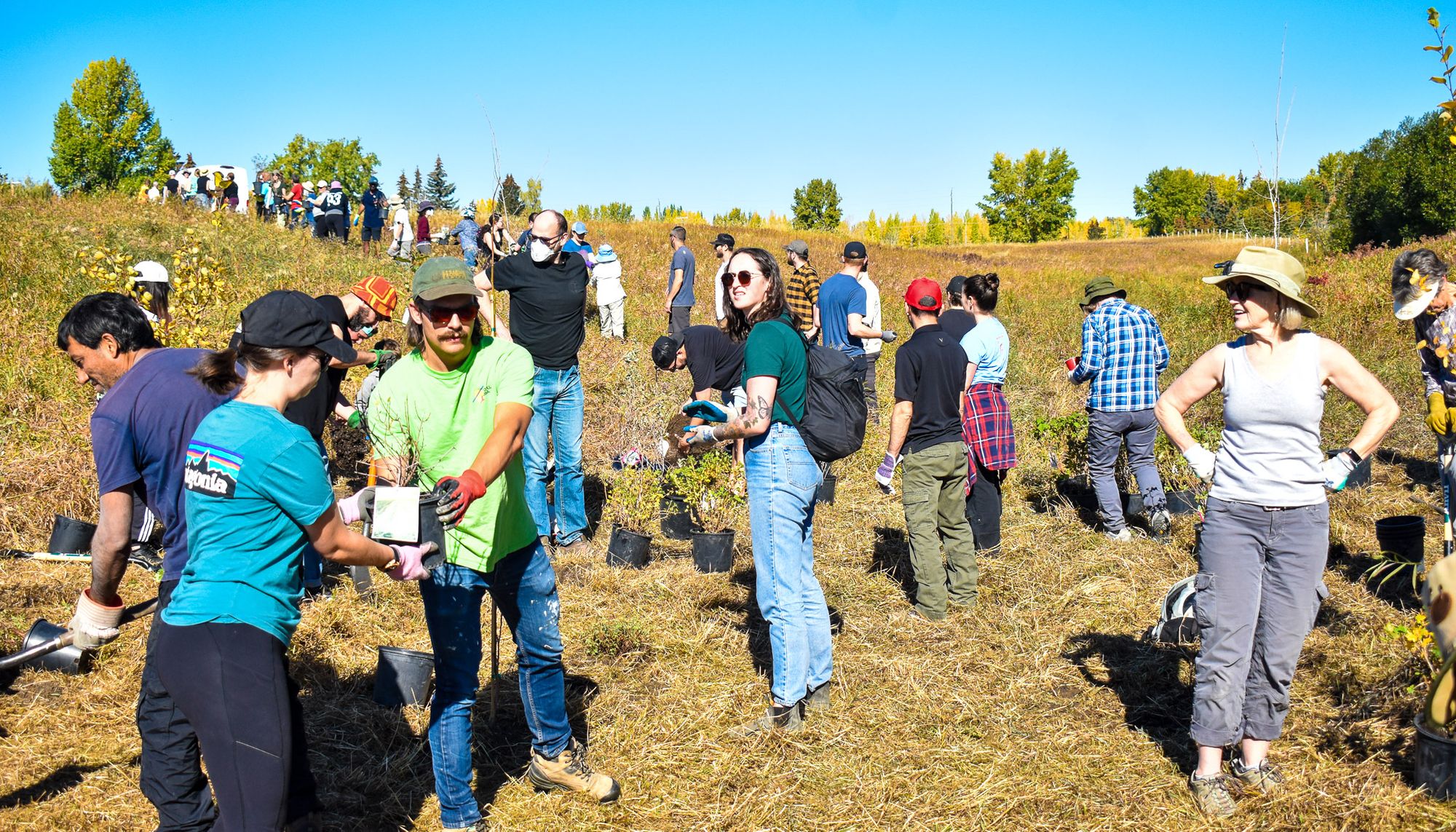 Community Building
The Hub reaches out to Calgarians in a variety of different ways. The Climate Book Club meets virtually 4 times a year. It encourages people to read the books and provides a safe place for them to discuss their ideas. "There's consistent attendance," Daniel says. "It can really bring people together." The November get-together will discuss Still Hopeful: Lessons from a Lifetime of Activism by Maude Barlow.
The Hub strives to include all age groups in their activities. Eco-Elders for Climate Action includes a large group of Calgarians "gathering elder voices to advocate for meaningful action by our governments to ensure a carbon-neutral future for all generations." They are self-organized but participate in all Hub activities. "They have a lot of knowledge and connections that they share," says Daniel.
The Hub strives to provide Calgarians with the tools they need to express themselves. Concerned with the City of Calgary's plan to accelerate suburban development, they held a training session to share ideas on how to respond to municipal housing plans and provided ideas on the best climate outcomes for the strategy.
The Climate Lens is the Hub's podcast and is designed to address recent issues affecting Calgary and Alberta. The current episode is entitled Clean Energy Sabotage and the Oil Boss Endgame. A previous episode discussed John Vaillant's book Fire Weather and the moratorium on clean energy.
Looking Ahead
Calgary Climate Hub obtained charitable status in June 2023 and is currently actively campaigning to support future activities that will educate, empower, and mobilize Calgarians to act on climate across a wide range of areas.
"Our vision is for Calgary to become a leader on climate action," says Daniel. "It will take a lot of work, but it's perfectly doable."
Photo credit: Albert Woo
EcoFriendly West informs and encourages initiatives that support Western Canada's natural environment through its online publication and the Nature Companion website/app. Like us on Facebook, follow us on Twitter or Mastodon, or subscribe by email.